Your home is your most valuable asset and protecting it from termites should be a top priority.
Shoals Pest Control is knowledgeable in the prevention and treatment of termites in various types of new and preexisting structures. Services vary from a one time liquid treatment to a complete baiting system with a renewable contract. Below are a few indicators that termites may be present in your home:
After rainfall during the day or evening, the termites may "swarm"
Door frames, windows, and baseboards may have evidence of swarming termites present
Tunnels around the foundation, under windows or on the walls
Blistering on sheetrock
A Few Serious Facts
Termites damage approximately 600,000 homes in the U.S. each year.
U.S. residents spend an estimated $5 billion annually to control termites and repair termite damage.
A homeowner who discovers termite damage will spend an estimated average of $3,000 to repair.
We use a modern baiting system to handle termites
We don't need to drill holes in your foundation, or pour 100-250 gallons of liquid around the perimeter of your home.
Installation time is one to two hours
Minimal landscaping disruption
Services done on outside only
Stations are monitored on a tri-annual basis and baited as needed
Stations are below the ground around the perimeter of the home
Kills the termite colony in as little as 120 days and continues to monitor for new invading colonies for long-term protection of your hom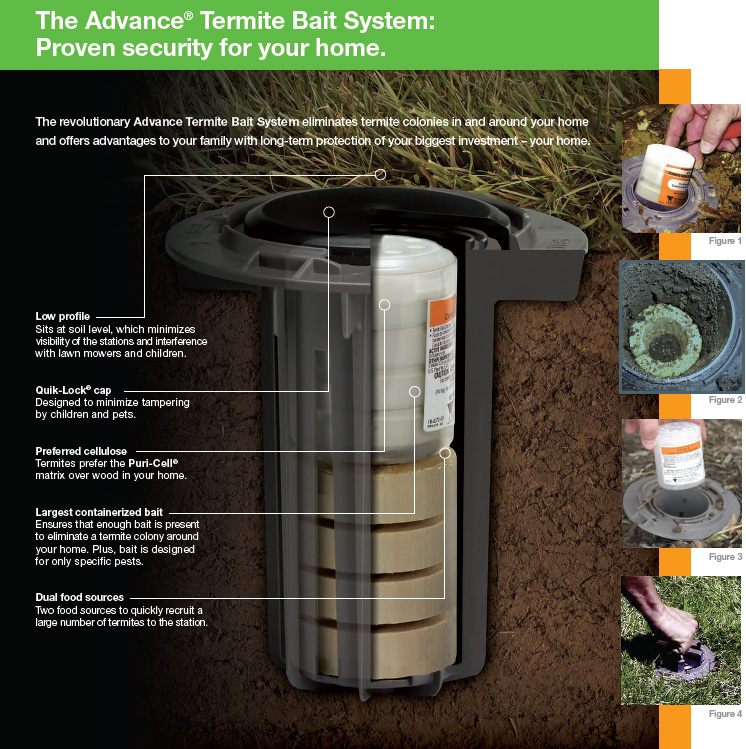 Would you like a Free Estimate?
We'll come out and give you a no-obligation estimate on how we can keep your home termite free.
OUR PHILOSOPHY
Your satisfaction is our goal. If you are not completely satisfied, we will work diligently until you are.
If pests return between scheduled treatments, your technician will return at no additional cost to you.
All service refund requests are subject to the nature of case by case basis. If we are unable to solve your pest issue, we will cancel or refund your service, at your request, without any cancellation fees.